The Great Recoinage of 1817
If 'it bleeds, it leads' accounts for a story spreading like fire across a city or nation; then the opposite must be true. An endeavor so organized—though of national importance—that comes and goes without incident, robberies, or chests of coins going missing. It, literally, occurs without notice and is buried in history.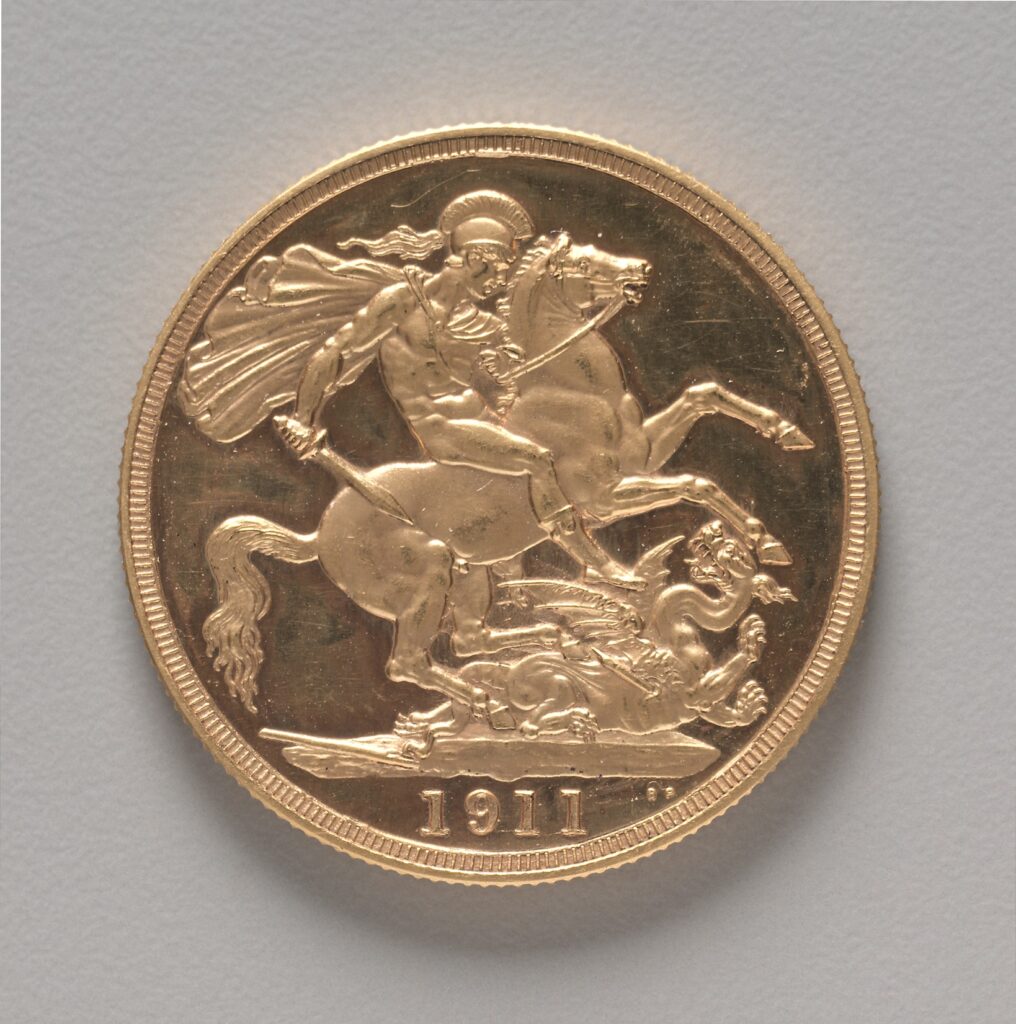 That was the Great Recoinage of 1817. Imagine a government deciding to pull all coins of a particular denomination out of circulation and replacing them with new ones in a two-week period. The British Royal Mint accomplished that feat in February 1817, though not without meticulous planning and mostly in secrecy.
William Wellesley-Pole
The man in charge was William Wellesley-Pole, brother of Arthur Wellesley, the Duke of Wellington. He was appointed master of The Mint in September 1814. "He set demanding standards for those with whom he worked and was a vigorous official." (1) However, he was also known to be vain and hot-tempered. But because of that temper, or perhaps because of diligence, he reacted angrily to setbacks and urged the moneyers and other laborers not to let the schedule slip.
Background for the Recoinage
The Mint had not minted many silver coins since the time of William III a hundred years before. Coins from William's reign were worn so thin as to be flat disks with almost no discernible stamping. The Mint struck the last silver coin in 1787 due to rising metal prices and outdated equipment. (2)
Counterfeiting was a huge issue. It is estimated that half the coins in circulation were counterfeit or foreign. (3) During the eighteenth century, to meet demand, The Mint would re-stamp Spanish dollars and countermark them as worth four shillings, nine pence.
While gold was the standard in the kingdom, the average citizen used silver in daily transactions. The need was particularly great outside of London and during times when large employers (e.g., industrialists) needed to pay their employees.
Some industrialists or merchants created their own money—silver or copper tokens or paper banknotes—and issued them to their employees. Some employers needed to search far outside their local area for sufficient coin or offer goods (ex: a miner receiving coal) as payment of wages. The lack of proper coinage available remained a pressing issue. (4)
While the beginnings of the recoinage began in 1797, arguments about standards as to the purity of the silver, the intrinsic value of the coin, and politics delayed the recoinage until 1817. The Napoleonic wars were an additional distraction. The Coinage Bill was approved by Parliament on June 26, 1816, and specified 2.5 million pounds in new coins. This equated to 62.5 million pieces: 37.5 million shillings and 25 million sixpences. (5)
According to the historicalstatistics.org currency converter website, 2.5 million pounds in 1817 would purchase 274,579,545 grams of silver. In 2015 (the last data available on the site), the price of that many grams would be $138,422,058 (US).
Preparation
The coins, which included shillings, sixpences, and half-crowns, were redesigned as part of this endeavor. A new engraver, Benedetto Pistrucci, was commissioned to create the figure of George III for the coins. Unfortunately, because the king was mad and couldn't sit for a portrait, he used existing portraits of the monarch and a previous engraving.
The Mint had eight presses, and the moneyers worked twenty-four hours a day from mid-August 1816 through January 1817. Smiths and laborers worked ten-hour shifts. The Mint had moved to new buildings on Tower Hill in 1810 and acquired modern presses, which facilitated their incredible work. It was estimated that a staff of approximately forty grew to over one hundred during this frenetic process. (6)
And here, real-life influenced my story. Due to controversy surrounding the effigy of George III for the half-crown, Pistrucci and another engraver James Lawson left The Mint in London for Matthew Boulton's Soho Mint in Birmingham in late December 1816 to use a reducing machine on the steel plates.
In Possession, I have my spymaster Fortinbras hearing about this sudden trip, distrusting the Italian Pistrucci (a common sentiment), and sending Luke to Birmingham to double-check that the Italian isn't selling government secrets.
Word leaked out about the new silver coins, giving rise to merchants refusing to accept any silver coins ahead of the exchange; there were some protests. The Mint had to assure all citizens that they would exchange old coins for new, no matter how worn, so long as they were genuine coin. While some organized opposition formed, they lacked scope. (7)
However, official notices about the recoinage were published on January 17, 1817, with multiple assurances that the receivers would take coins, no matter how worn.
"NOTE: The Old Silver Coin of the Realm, however defaced or reduced-in-weight, by use, is received in payment, at its nominal value, by all Branches of the Revenue, and at the Bank of England, and will continue to be so until it is exchanged for the New Silver Coinage. (Signed) W.W. Pole Master and Worker of his Majesty's Mint"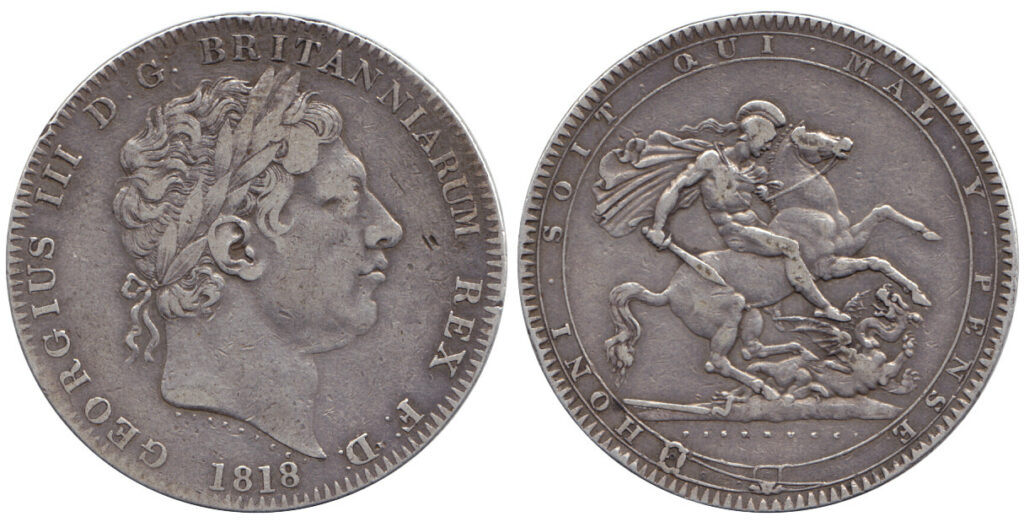 Social Unrest
There were worries over how the 'lower orders' would view this endeavor and whether there might be riots. This concern was voiced both early in the process and right before the exchange began. It is possible that a protest by a political radical scheduled for the original start day, February 3, 1817, was one of the reasons for delaying it ten days to start February 13.
The Exchange
The Mint came up with an estimate of four shillings, two pence (4s 2d) coin per person, based on a population of twelve million. Then they allocated coins to a selection of three hundred and forty towns and bankers, building in flexibility should any town require more. Distribution started January 18, 1817. In most parts of England, the winter was mild, facilitating the transport.
Boxes were packed containing six £100 bags: four of shillings, one of half-crowns, and one of sixpences. In eighteen days, £1,800,000 was sent to sites in England and Wales. The bulk was delivered by coach.
The exchange was due to begin on February 3. The Cabinet deferred it until February 13 because they feared starting on a Monday and so early in the month when workers would have the bulk of their wages. The delay allowed getting coins out to all the country banks as estimates for delivery were incorrect. The previously mentioned planned political protest on the original day may also have been an inducement. (8)
There were both reports of order and regularity, and others of long lines, windows broken because of the pressure of the crowds, and pickpockets relieving people of banknotes. Most of the long lines and crowds were in London and during the first days of the exchange. Some of the most distant places in the north or on the islands were given extra days.
Aftermath
Not a single bag of the new coin went missing. Of the old coin, two bags of approximate value of £200 were stolen in Tavistock, and a man was arrested. That was the single 'incident' of the entire endeavor.
Counterfeiters were quick. Reports that tradesmen received 'base money' (counterfeit) were published as early as February 14, the day after the exchange began.
But the exchange was completed in a fortnight. And as of March 1, 1817, the old silver coins ceased to be legal tender.
Why this is lost in history
Wellesley-Pole only missed his estimated thirty weeks of production by two weeks. That is impressive given the largely manual nature of the operation compared to our modern machinery. The Mint experienced no significant delays due to mechanical failure. One press out of the eight had a great screw give way, which was a minor issue given their frenetic pace of 24/7 minting for seven months. As mentioned above, none of the boxes or bags went missing. It was a glorious success.
The press preferred to focus on the half-crown's unflattering portrait of George III or the vanity of both Wellesley-Pole and Pistrucci to carve their initials into the coins' designs.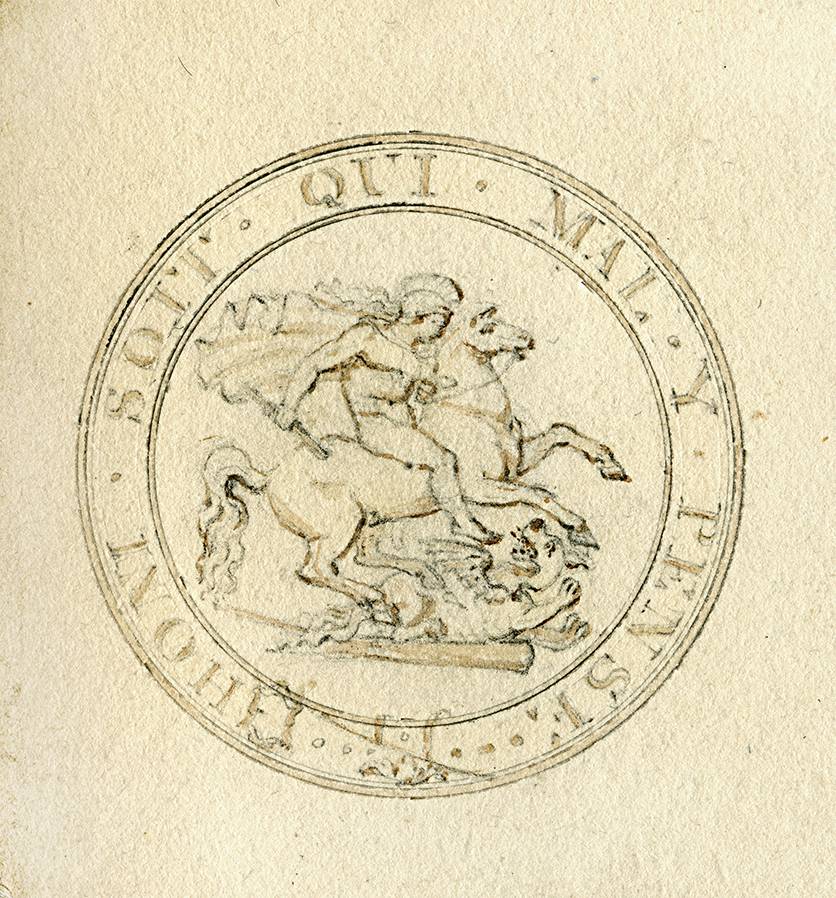 Legacy
The silver coinage minted in 1817 remained in circulation until 1971—for 154 years. (9)
Wellesley-Pole founded a museum to house examples of every coin or medal that The Mint would strike with the help of local banks and collectors who donated pieces to help with the initial collection. This became the Royal Mint Museum.
Benedetto Pistrucci was first commissioned to provide portrait models of George III. Originally a gem engraver, he was as conceited as Wellesley-Pole, learning to engrave plates to ensure his designs were not modified.
While his portrait of George III was widely criticized, his design for the reverse side of the new sovereign gold coin became his legacy. Before that time, the reverse of most coins was typically a heraldic design. But Pistrucci sketched, then engraved an image of St. George and the dragon, with the saint, naked on horseback, wielding a spear over the dragon. Supposedly he used an Italian waiter as his model. (10)
Initially, the new sovereign had critics; people objected to an Italian engraver for British coins. But Pistrucci's engraving is still in use today.
References
(1) Clancy, Kevin. (1999) The recoinage and exchange of 1816-17. [Submitted in accordance with the requirements for the degree of PhD]. The University of Leeds, School of History.
(2) Chard, Lawrence. (2019 August 20). A Brief History of Coinage in Britain. Chards. https://www.chards.co.uk/blog/brief-history-of-british-coins/464/713
(3) Clancy, p. 95
(4) Chard
(5) Clancy, p. 112
(6) Clancy
(7) Clancy, p. 99
(8) Clancy, p. 128
(9) Roberts, Greg. (2015 January 27). Wellesley-Pole's Finest Hour: The Great Re-coinage, 1817. Wickedwilliam. http://www.wickedwilliam.com/wellesley-poles-finest-hour-great-re-coinage-1817/
(10) George and the Dragon: Benedetto Pistrucci's Masterpiece. (2021 January 2). Britanniacoincompany. https://britanniacoincompany.com/blog/benedetto-pistrucci-saint-george-dragon/
Additional References
Benedetto Pistrucci. RoyalMintMuseum. https://www.royalmintmuseum.org.uk/journal/people/benedetto-pistrucci/
Old English Money. ProjectBritain. http://projectbritain.com/moneyold.htm